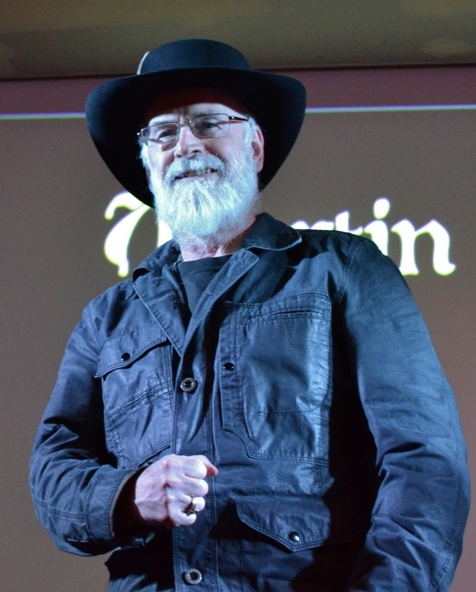 Sir Terry Pratchett at Nullus Anxietas III in 2011
Born in Beaconsfield in 1948, Sir Terry Pratchett is one of Britain's most successful authors with more than 65 million books sold worldwide in at least 37 languages. He is best known for the Discworld series, which comprises 41 books – the final one being The Shepherd's Crown, published posthumously in August 2015. By the way, this number doesn't include all the Discworld spinoffs – the companions, the mappes, The Science of Discworld books, The Folklore of Discworld, the diaries, etc, etc.
In July 1999 he received an honorary Doctorate of Literature (D.Litt.) from the University of Warwick (and in turn granted doctorates of the Unseen University to Ian Stewart and Jack Cohen, co-authors with him of The Science of Discworld). This was the first of a string of honorary doctorates, from the University of Portsmouth (2001), through to the University of South Australia (2014). Terry was also an adjunct Professor at Trinity College, Dublin University, and gave several lectures and master classes at the University. 
In 2007 he was diagnosed with Posterior Cortical Atrophy, a rare form of early-onset Alzheimer's disease. Since the diagnosis, he donated £500,000 to the Alzheimer's Research Trust, and became something of a figurehead for dementia sufferers. In 2009 he gave the BBC Richard Dimbleby Lecture on the subject of assisted dying. He has appeared in the BBC documentaries "Living with Alzheimer's" and "Choosing to Die".
He was awarded the OBE in 1998 for services to literature and knighted in 2009 'in recognition of the huge impact his work has had across all ages and strata of society and across the world'.
Sir Terry passed away peacefully on March 12, 2015 at the age of 66.
In September 2015, the Sir Terry Pratchett Memorial Scholarship was presented to the University of South Australia, a perpetual scholarship worth AU$1,000,000 (or thereabouts), which will allow Masters students to share time between UniSA and Trinity College, Dublin, all done in Sir Terry's name.
With thanks to Colin Smythe, Rob Wilkins – and Sir Terry, of course.
For more detail about Terry and his work see his official website.