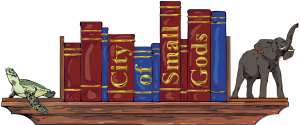 We have an established Terry Pratchett & Discworld fan group in Adelaide called The City of Small Gods, which is open to anyone who would like to come - you don't have to live in Adelaide or even South Australia, or even be a Discworld fan, but that's mostly where our events will be held, and we do like discussing Pratchett's works.
Get Involved!
To keep up on exactly what's happening and when, or to take part in some online discussion, please join:
Monthly dinner
Our monthly dinners are generally held on the last Thursday of the month at a pub or restaurant in Adelaide - currently The Duke of Brunswick. We have dinner at 6.30pm followed by chatting and games until 9pm. See the Facebook group for event times and details.
Monthly Crafty Evenings (Online)
After a successful run of online events during 2020, we are also holding a monthly "Crafty Evening" on Discord on the first Wednesday of the month. Stay at home but join us for voice/video chat and be as crafty as you like - you can sew, crochet, cross-stitch, paint, make LEGO, 3D-print, colour in, build a model kit, or simply just chat. See the Facebook group for event times and details.
Book Discussions
Every few months we hold a book discussion on one of Terry's novels - chatting about the themes, plot, characters, and favourite quotes of the book, plus a small craft activity for a bit of extra fun. See the Facebook group for event times and details.
Games Days
We host a board games day every three months on a Sunday, (usually during school holidays) at a local cafe or community hall - with a range of games provided by members (or feel free to bring your own to play). See the Facebook group for event times and details.
Other gatherings
In addition to the above, we will occasionally have other events, such as craft or costuming workshops, movie outings, or other fun social activities. See the Facebook group to get the details.
Quiz Long and Prosper
Our popular Science Fiction and Fantasy quiz night returns on 28 October 2023!
Find out more and book tickets at quiz.cityofsmallgods.org.au
Troll Bridge - South Australian Premiere (2019)
Troll Bridge, the short Discworld film by Snowgum Films, has been having great success screening at various film festivals around the world since its premiere in January 2019. Saturday, 21st September, was yet another of these premiere screenings, but this time with a difference. The South Australian premiere of Troll Bridge wasn't at a film festival, but was instead hosted by our local fan club, the City of Small Gods. Held at the independent Mercury Cinema, the crowd of 160 fans was enthusiastic about the screening of not only Troll Bridge, but Run Rincewind Run!, another short fan film created by Snowgum Films for the first Australian Discworld Convention, Nullus Anxietas, in 2007. We also managed to raise approximately $1600 from ticket sales which was donated to the Women's and Children's Hospital Foundation. Thanks must go to the wonderful support from Adelaide's community, to Snowgum Films, and the Mercury Cinema.
Charities we support
The City of Small Gods and Round Worlds Events SA Inc. donate part of monies raised at our events to the following charities:
Round World Events SA Inc.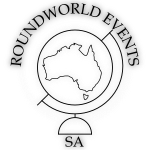 Round World Events SA Inc is a not-for-profit incorporated association whose aim is to run fun social Pratchett-themed events for people in South Australia. We have run two Australian Discworld Conventions: Unseen University Convivium in 2012 and Nullus Anxietas VI - The Discworld Grand Tour in 2017.
We have also run several successful and booked out Science Fiction and Fantasy themed quiz nights named Quiz Long And Prosper, from 2013 to 2019, now returning in 2022!
The association will run most events under the City of Small Gods banner, but you do not have to be a Round World Events SA member to be part of City of Small Gods. However, we are always on the look out for new members for Round World Events SA to help us organise future events! Membership is $20 a year (for Adelaide locals) or $5 a year (for those not quite so close) and has the following benefits:
A shiny membership certificate all of your very own
Discounted entry price to some of the events we run
A warm, fuzzy feeling deep down in your chest (no, not quite that deep)
For more information, or to join as a member, please email Round World Events SA Inc.