The Lost Con
A virtual celebration of Discworld
Saturday 3rd July 2021 from 4pm to midnight AEST (Sydney time), online with Zoom.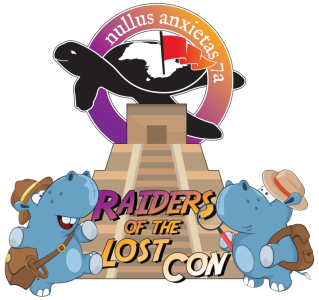 Thank you to all our supporters who joined us for our "Lost Con" extravaganza on July 3rd 2021. Also, thanks to all our guests who helped make it a great day with many surprises! If you missed it, we have recordings of a few events which we plan to share with you soon. These will be uploaded to our YouTube channel starting in August, or you can see the full playlist below. Subscribe to be notified when a new video is posted! We have never done anything like this before, and your stream of comments and questions contributed so much to the atmosphere of the event.
Below we have a historical record of information about the event, for your interests' sake!
---
The Lost Con is open (and free) to all attending and supporting members of Nullus Anxietas 7a, our 2022 convention. It's a chance for us all to catch up, meet a few guests and enjoy a few Terry Pratchett and Discworld related events. If you hold a supporting or attending membership, details of how to attend will be emailed to you (if you are signed up to the newsletter). To purchase a supporting membership, visit the shop.

For more information, please keep reading the F.A.Q. below.
Frequently Asked Questions
What is the Lost Con?
The Lost Con is an online, virtual convention happening on Saturday, July 3rd, 2021. It will take place from 4pm to midnight, AEST (Sydney time).
Rules for participants:
We politely ask that you do not record the Lost Con, as there are copyright issues with some events.
We plan to record some events and post them to our YouTube channel at a later date.
For some events we will allow members to talk and ask questions directly. Please remember that this is a family friendly event in your choice of words.
Be most excellent to each other.
Disclaimer:
The Lost Con is a virtual event, presented live. Whilst we will do our best to ensure good quality audio and video, we cannot guarantee the quality of internet connections.
We will do our best to adhere to the published schedule of events, but this may be subject to "things that happen on the day".
How do I sign up for The Lost Con?
If you already have a supporting or attending membership for Nullus Anxietas 7a, then that's the only ticket you need!
If you haven't got a membership yet, buy a Supporting Membership here. The great thing is that it means you can also upgrade to attend the 2022 convention at the early bird price!
All ticket holders should also ensure they have subscribed to our newsletter - we will be using this to email out more information and links.
How do I attend The Lost Con?
Details about the online platform and how to attend will be sent out to ticket holders via the newsletter in a direct email - so make sure you are signed up!
You will need an internet connected device with reasonable bandwidth so you can watch video streams. We advise downloading the Zoom Meetings Client or iOS/Android app for your computer, tablet or phone in advance.
How do I participate in the quiz?
We are planning to use Kahoot! to run the quiz. We suggest using a smartphone or tablet to answer questions, separate from the device that you are watching the video stream on. Participation will be live, so you'll need to be quick on your fingers to get those points! You can trial the system with a simple Discworld quiz here.
Who are the special guests?
Many guests will be joining us from all around Australia and even some in the UK! You can find out more about all the guests over on this page.
How do I participate in the other activities?
Many of the activities will just be live videos you can watch, which may or may not have a chat feature where you can give feedback or ask questions. For the most part, you will not have your camera or microphone enabled. When appropriate, you may be asked to unmute or turn your camera on so you can participate more fully. To find out more about all this, be sure to attend the Opening Ceremony at 4pm.
Will any of the videos be available to watch after The Lost Con?
We can't guarantee it. Some events will definitely not be available at all, so your best bet is to participate on the day! So make sure you mark your calendar!